The Idea Fund Round 15 Applications are now open!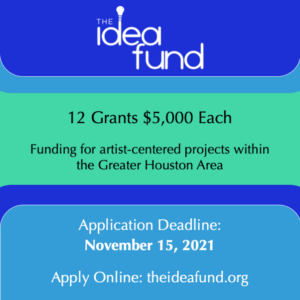 The Idea Fund will provide 12 grants of $5,000 each to individual artists or collectives in the Greater Houston Area.
The grants will support innovative, experimental, public-facing visual art projects that expand our understanding of how art exists in the world, address community needs, or exemplify new ways of working in, for, and with community.
Funded proposals will take innovative approaches to the urgent questions of our moment and create lasting impacts on its intended communities. The Idea Fund seeks to exemplify equity, display artistic originality, and propel artistic growth.
The Idea Fund grantees are selected by a 3-person jury panel. Key considerations for applications will include:
artistic and creative strength of the proposed project
overall vision of the applicant
capacity of the applicant to realize the project
accessibility of the resulting project to the public as either an in-person or online event, project, program
commitment to serving a local community.
APPLICATION DEADLINE: November 15, 2021, 11:59PM (CST)