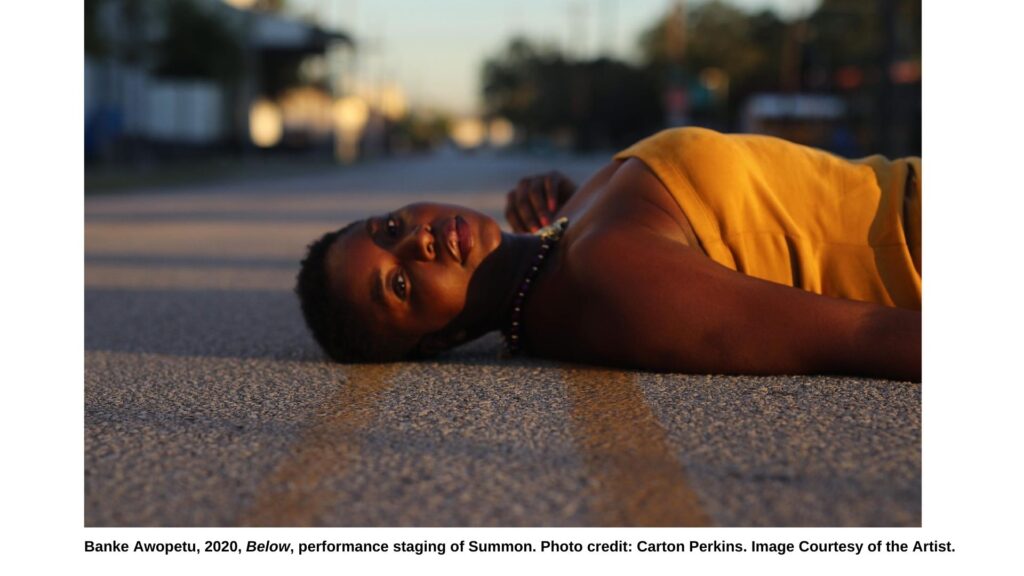 Banke Awopetu and collaborators: Asha Black, Blu J, Sha'Na Lynnette Smith, and Arnea Williams
Summon
Summon is a cross-disciplinary street performance and invitation to explore the spiritual power within and between Black women.
Written and conceptualized by Banke Awopetu
Stage direction by Sha'Na Lynnette Smith
Livestream, film, and photographic direction by Arnea Williams
Street mural by Asha Black
Performed by Banke Awopetu, Sha'Na Lynnette Smith, and a Blu J
Summon starts with three women lying lifelessly within a parking lot mural of neon-colored rounded chalk outlines and names of deceased Black women artists written in block lettering. The audience stands on raised placards above the performers and mural, creating both a socially distant space and the effect of American voyeurism and consumption of Black womanhood.
Though the performers are physically below the audience, their raised voices float above and summon spiritual healing. Each actress eventually stands, rising to the call to her highest self and summoning Black women to do the same. The exhibit will be live-streamed from an aerial position, giving virtual viewers the same vantage point as those watching in person. Footage from the live stream will be extended into a short film highlighting conversations and experiences of Black women artists in Houston.
To follow Awopetu's work, visit: http://banketheauthor.com/