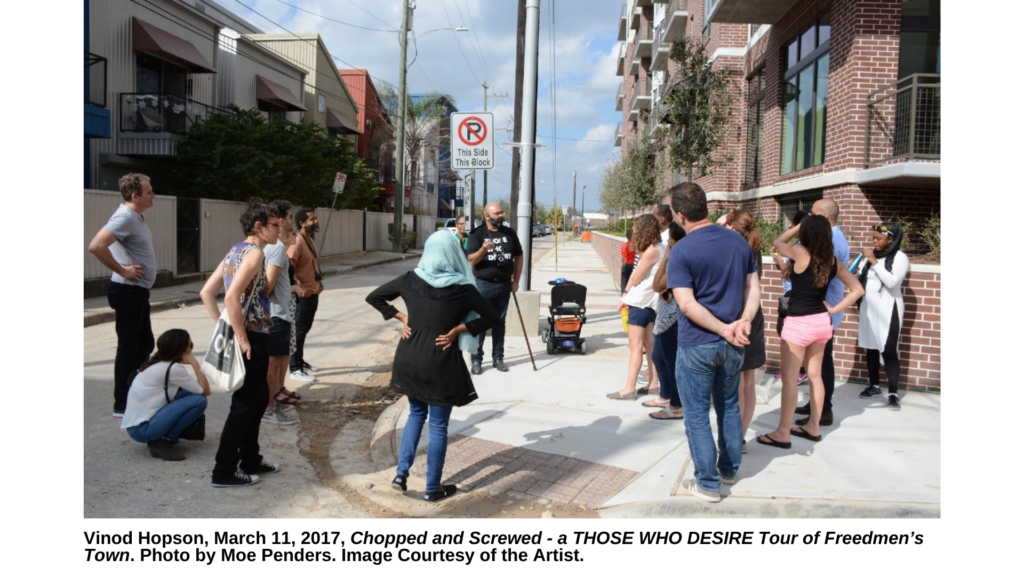 Vinod Hopson
THOSE WHO DESIRE – en los Brazos de Dios
The 1,300 miles of the Brazos River cuts through more than red Texas soil as it flows from the Texas Panhandle and past Houston on its way to the Gulf of Mexico. It cuts through over 300 years of history, culture, and commerce, and its fertile bottom soil is vitally important to the history of Houston, the State of Texas, and the whole American West.
THOSE WHO DESIRE is a project exploring lost, often difficult histories – primarily BIPOC histories that have been ignored or suppressed. Initiated in 2016 with funding from the Idea Fund, Hopson's tours are based on both secondary, and original primary research that is expanding the understanding and reach of these histories.
The Brazos River and the valley around it are full of important histories, and for this expansion of the project, he is proposing a new tour of a portion of the river that runs through Grimes, Brazos, and Waller Counties, northwest of Houston. Ideally, this tour would be conducted from a boat, on the river. The stories include early European exploration and encounters with indigenous peoples; the Old 300 and white migration; cotton and sugar cultivation, and the introduction of slavery to Texas; the White Man's Union; Tom Moore's Farm; Mance Lipscomb and Texas Blues Music; and the system of convict leasing; among others.
To follow Hopson's work, visit: http://www.thosewhodesire.com/