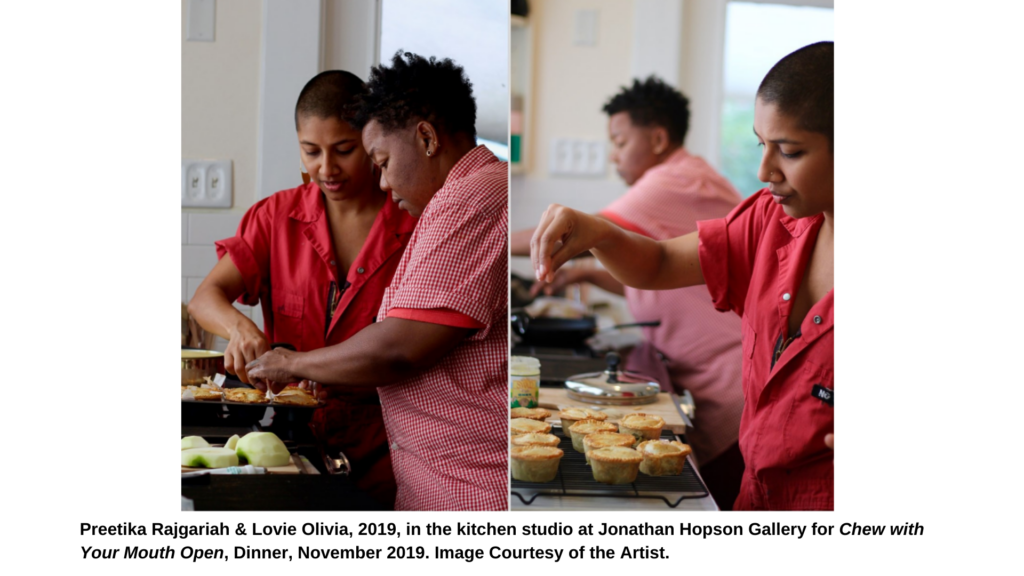 Two Dykes and a Knife (Preetika Rajgariah & Lovie Olivia)
TONGUE AND CHEEK
Due to the pandemic, the previous structure of Two Dykes and a Knife's culinary events have evolved into shared, virtual dining experiences. With this grant, Lovie Olivia and Preetika Rajgariah will create, prepare, package, and deliver multi-course, vegetarian meals to approximately ten households on a set day.
A virtual dining experience will commence using a zoom link that the participants open at a set time. As with all of their culinary and visual art exhibitions, aesthetics are at the forefront; that being said, this will be a unique situation in which the participants will take part in the creation of their own final plating by following instructions and prompts in the packaging provided by Lovie and Preetika.
Through careful curation of this multisensorial experience, the two artists will take into consideration the challenges of the past nine months in hopes to connect, laugh and heal, while sharing and engaging in global flavors and critical conversations.
To follow their work, visit: @twodykesandaknife, www.prajgariah.com, www.lovieolivia.com